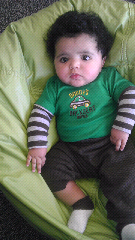 It's hard to believe that six months have gone by since we first held you in our arms. You are more amazing and more loved everyday.
At six months:
You have your two bottom teeth.
You sit up on your own for long periods of time.
You giggle and jabber all the time.
You still wake up for a bottle once or twice a night.
You roll and pivot, but you still aren't interested in crawling.
You love your family including the four-legged family members.
Everywhere we go, people comment on your hair and how big you are.
You weight about 23 lbs (big boy!).
You still only want to drink 4 oz. of formula at a time.
You seem to have no interest in solid food, but you do grab everything in your reach.
We continue to be so thankful for God for the amazing blessing of being your parents.